Choosing the right and the best video editor software is crucial for any creator, whether you are a beginner looking to create your first videos without having to pay for an expensive program such as Adobe Premiere Pro, or you are an experienced user looking for the right solution – free or paid – but want to try the software before investing.
There are a lot of freeware programs available on the market, however their quality can be random: some offer only basic functionality before charging you, while others offer the same or better tools than paid programs.
So how do you choose the right free video editor software for you? We've compiled a list of the best PC video editing software options for free download.
Top 3 best free PC video editing software in 2023
1. PowerDirector Essential: The Best Free Video Editing Software for Any Creator
In our opinion, PowerDirector is the best free video editing software for any user because it contains a full range of basic and advanced features, as well as additional content that will satisfy both novice creators and professionals. Whether you want to create your YouTube channel, assemble your home movies or create professional video edits, PowerDirector is the solution for you.
2. DaVinci Resolve: The Best Free Video Editing Software for Professionals
There's no denying that DaVinci Resolve is an incredibly powerful video editing software that offers all the tools to create professional video edits. Designed specifically to work with Blackmagic cameras and DaVinci hardware, it's a great choice if you're willing to put in the time to learn it.
3. Windows Movie Maker: The Best Free Video Editing Software for Casual Users
From a really basic video editing software in its early days, Windows Movie Maker has grown to be able to handle most simple editing projects. It is a good choice for users who only do occasional video editing; indeed, although simple and intuitive, its functions are limited.
12 best free and simple video editing software on Windows
PowerDirector Essential – Best free video editing software for any level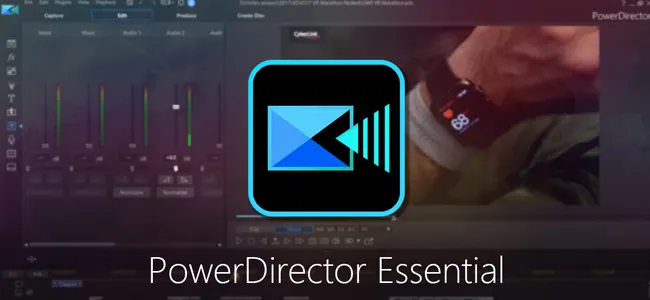 PowerDirector Essential is the free video editing software we recommend, no matter how much experience you have with video editing. PowerDirector offers all the basic and advanced video editing tools you need to create, as well as numerous customizable effects templates, titles, animations and transitions. In addition, one of PowerDirector's main strengths is its intuitiveness and smooth workflow that allows you to create more quickly and easily compared to other solutions.
In our testing, we liked the ease of use, allowing beginners to create their first videos or slideshows very quickly with the help of many guided tools. More experienced and professional users will benefit from its advanced tools – some AI-assisted, and precision.
You'll find that the free version of PowerDirector will meet all your daily video editing needs. However, if you want hundreds of additional templates, as well as over 8,000,000 pieces of royalty-free content, the premium version is available for an affordable price.
PowerDirector has been awarded PC Magazine's prestigious Editor's Choice award and highly recommended by Techradar Pro.
Publisher: CyberLink
Operating Systems: Windows, MacOS, iOS, Android
Best Features:
Storyboard, Timeline or Slideshow creation modes
Animated titles
Creative transitions
Quick templates and one-click effects
Speed controls
Chromatic key (green background)
Masks and blend modes
AI-assisted tools: Sky Replacement, Object Detection, Wind Removal and Dialogue Enhancement
8,000,000 royalty-free video clips, images and audio tracks
Access to Cyberlink tutorials
Benefits:
Easy-to-use video and audio editing
Essential selection of tools
Multiple creation modes
For all levels: from beginner to professional
Disadvantages:
Some advanced features may require some learning
Limited export formats
2. DaVinci Resolve
Free video editing and color grading software for professionals.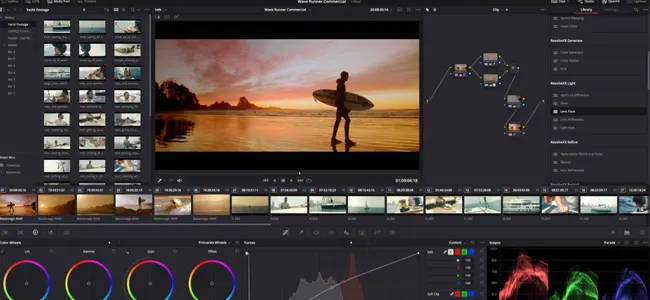 DaVinci Resolve is a free video editing software with advanced capabilities. Designed for Blackmagic cameras and DaVinci hardware, it is a reference for color correction.
It offers a wide range of advanced features that allow you to change tones, eye color or even lip color with one click, and contains professional quality audio editing tools.
If you want to work in a team in real time on professional projects, then this is an excellent choice. For beginners, you'll need to spend a lot of time learning it.
Publisher: Blackmagic Design
Operating systems: MacOS, Windows, Linux
Best Features:
Quality audio editing tools
Color correction
Graphic animation
Benefits:
Smart color correction
Multi-user collaboration
Advanced post-production audio tools
Disadvantages:
Requires a learning curve
Requires a powerful computer to run
Download: Free on their website
3. Windows Movie Maker
Free video editing software for occasional users on Windows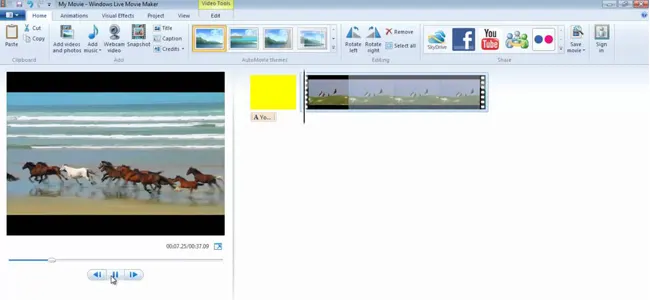 This free video editing software will allow casual beginners to access all the basic tools to create simple videos.
The interface is structured in pure Windows style, completely atypical for a video editing solution, however its simplistic operation makes it easily accessible to make a video quickly.
You'll find simple tools to cut or move your clips, add text, put some transitions or even to create credits with the templates included in this software.
Publisher: Microsoft
Operating Systems: Windows 7 and 8
Best features:
All the tools available on the main interface
Predefined templates
Benefits:
Customizable transitions and titles
Audio tools
Easy export to social networks
Disadvantages:
Limited features and control
No support for recent file formats
Service discontinued on Windows 10. Use the Windows Photo program, or download it with Windows Live Essential
Download: on Windows, and Windows Live Essential
4. Adobe Premiere Pro
Free trial version of the video editing software for professionals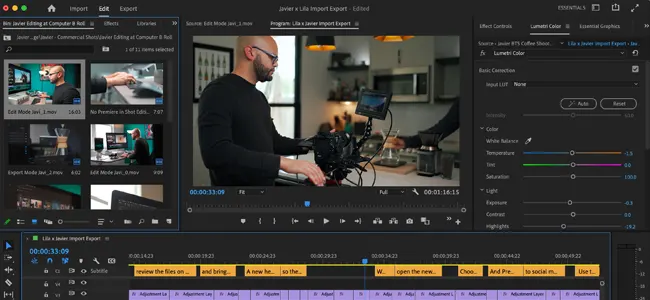 Premiere Pro is a video editing software known to professionals. Its capabilities make it a popular tool for users who have a lot of experience in video editing. However, if you are just starting out in video editing, you should know that its learning curve is significant.
This video editing software allows you to produce quality videos up to 8K, and includes powerful features, the possibility of deleting your media, managing audio, or even customizing and creating your content, effects, transitions, texts, etc.
In addition, it integrates with other tools in the Creative Suite and the Adobe Creative Cloud, allowing you to create and synchronize your creations from different media. These include After Effects (visual effects for video), Photoshop (photo editing) and Illustrator (vector illustrations).
Publisher: Adobe Inc.
Operating Systems: Windows, MacOS
Best features:
Advanced workflows
Automatic features
Well-organized interface
Advantages:
Almost unlimited possibilities
Compatible with the Creative Cloud
Supports many formats
Disadvantages:
The free trial version only lasts 7 days
Requires a long learning curve for beginners
A powerful computer is required
Download: on their website. Limitations: 7 day free trial before you have to subscribe.
5. Shotcut
Free video editing software for intermediate users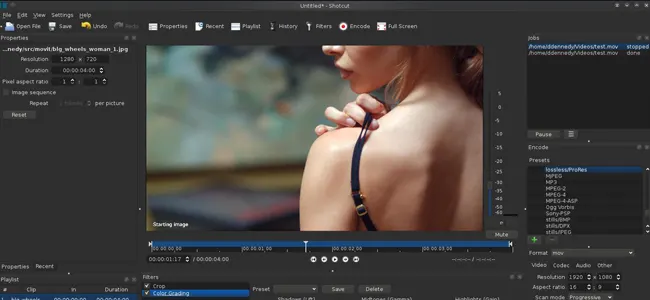 For users of basic video editing software such as Movie Maker, Shotcut is a good choice to upgrade to more advanced editing.
This program is open source, so once you download it, you'll have access to all its features and can customize your interface as you wish.
Shotcut offers advanced effects and filters, as well as the possibility of replacing the green background with its color key function. In addition, Shotcut offers a variety of formats to produce high quality videos.
Publisher: Meltytech
Operating systems: MacOS, Windows, Linux
Best features:
4K HD resolution
Timeline editing
Video and audio editing
Advantages:
Cross-platform compatibility
Open source program
Disadvantages:
Little support for advanced projects
Unusual interface that takes time to learn
Download: Free on their site
Download the best free video editing software
When searching for the right free video editing software for you, you will find dozens of solutions.
Big names like Adobe Premiere, DaVinci Resolve, PowerDirector and many others are regularly mentioned, but they don't always fit your needs. Fortunately, these video programs are free so you can try them all to find the one that suits your needs.